HOUDINI - Timeshift nodes
If you're using timeshifts in your scene please make sure you upload all the relevant files.

The use of timeshifts requires that all relevant files be uploaded.


In the Render_Submit HDA under the "Advanced" tab, check "Upload All Frames For Selected Patterns" which will
force your entire sequence of input files to upload: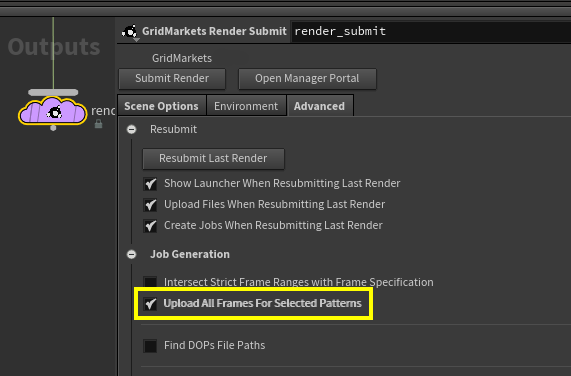 Related Articles

HOUDINI - Correcting for missing files / uploading additional folder and files

If the logs are reporting missing files like in your failed job - e.g.: --------- MISSING FILES ------------ /data/input/path/to/your/missing_file.0001.bgeo.sc ------------------------------------ - please follow the instructions below: 01) Overall ...

HOUDINI - Upload Files and Start Render Jobs features

Disabling Upload Files feature allows you to submit the job without checking which files are to be uploaded. In other words it will only submit a render job without uploading anything. If you want to resubmit the scene from Houdini and all files are ...

HOUDINI - Correcting for missing project ("Upload Files" switch)

If your job failed and submission in Envoy shows "Project directory missing" after hovering the cursor over the job status - it means you have submitted the job with "Upload Files" feature disabled in the plugin. In order to fix this please make sure ...

HOUDINI - Troubleshooting in general

Where in the process does the submission fail? If a Houdini error is reported on hitting Submit in the render_submit ROP then please provide the error text or a screenshot to support@gridmarkets.com. If the Preflight doesn't appear the ensure you're ...

HOUDINI - Clearing Manifest (reverting HDA to defaults)

Please note that if you prevent the given assets from being uploaded in the plugin by unchecking the Upload box it will get saved in the scene and those won't be marked for upload for future submissions for the given scene. There are also other ...